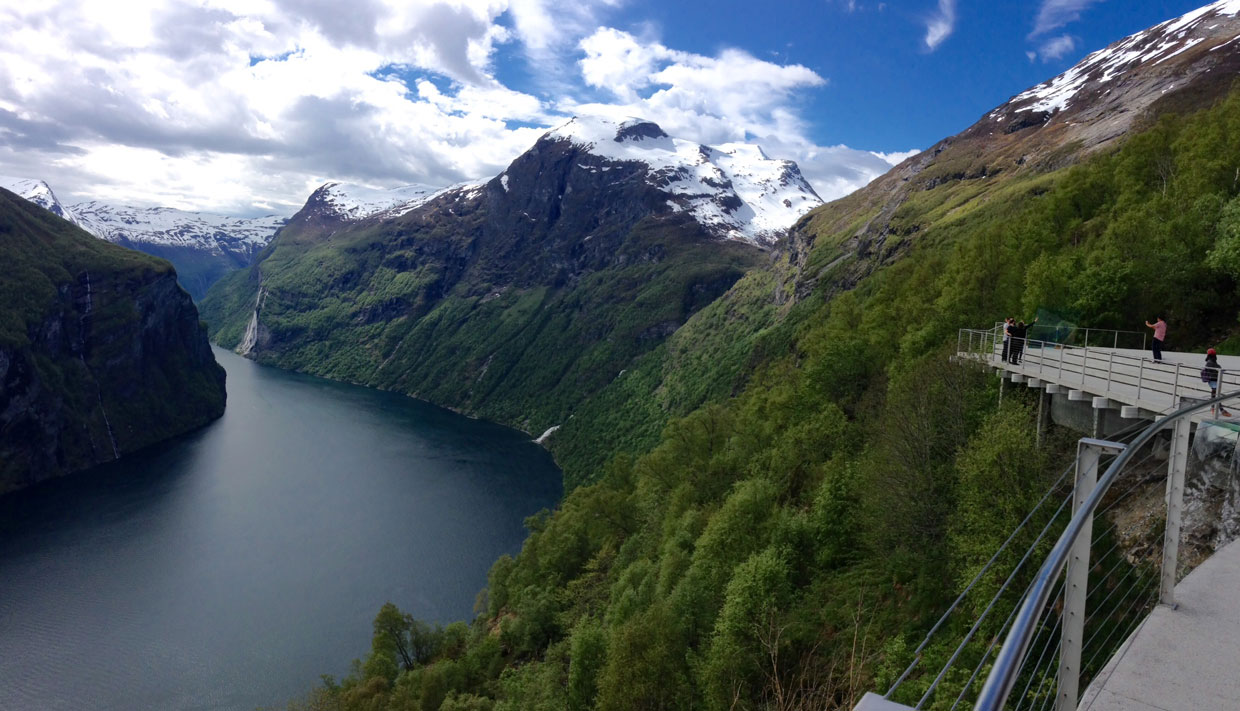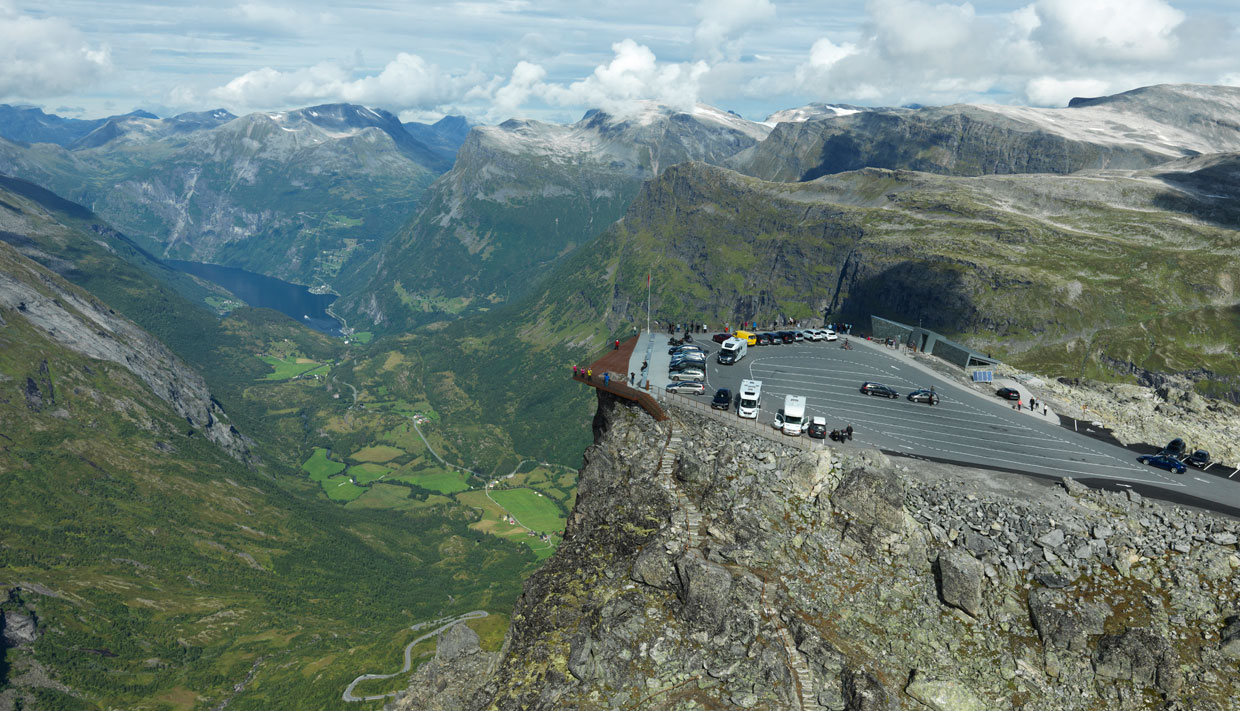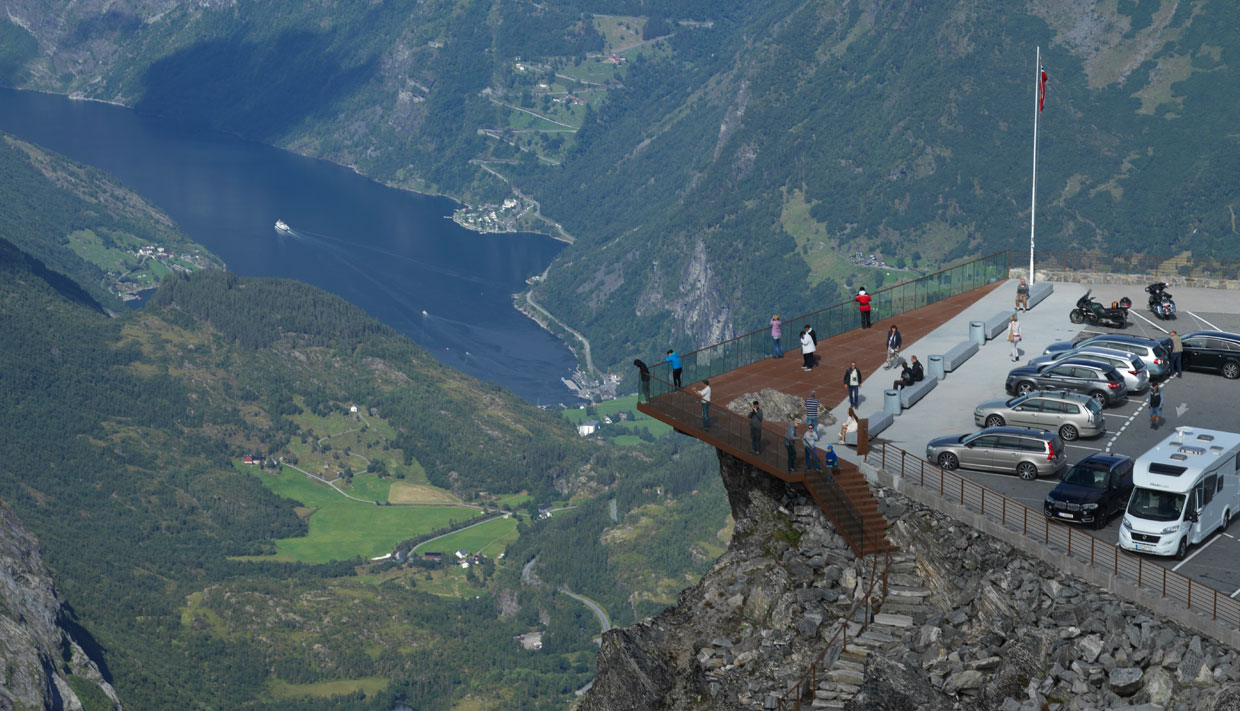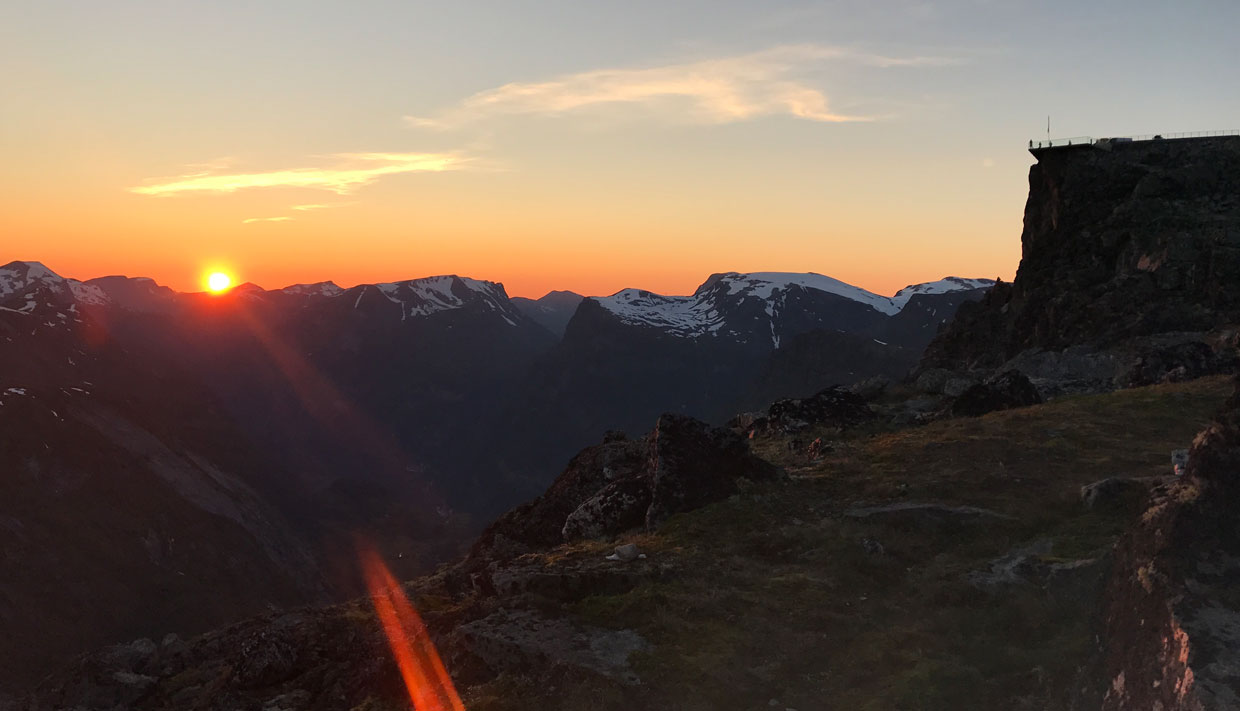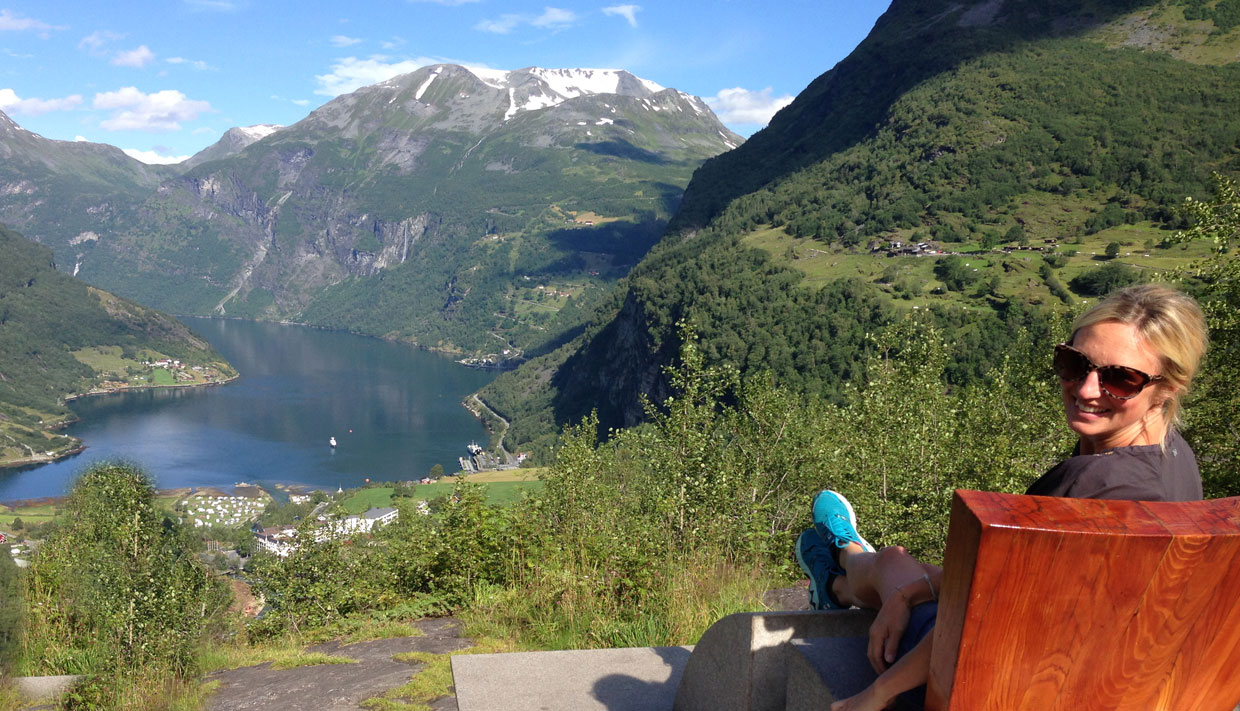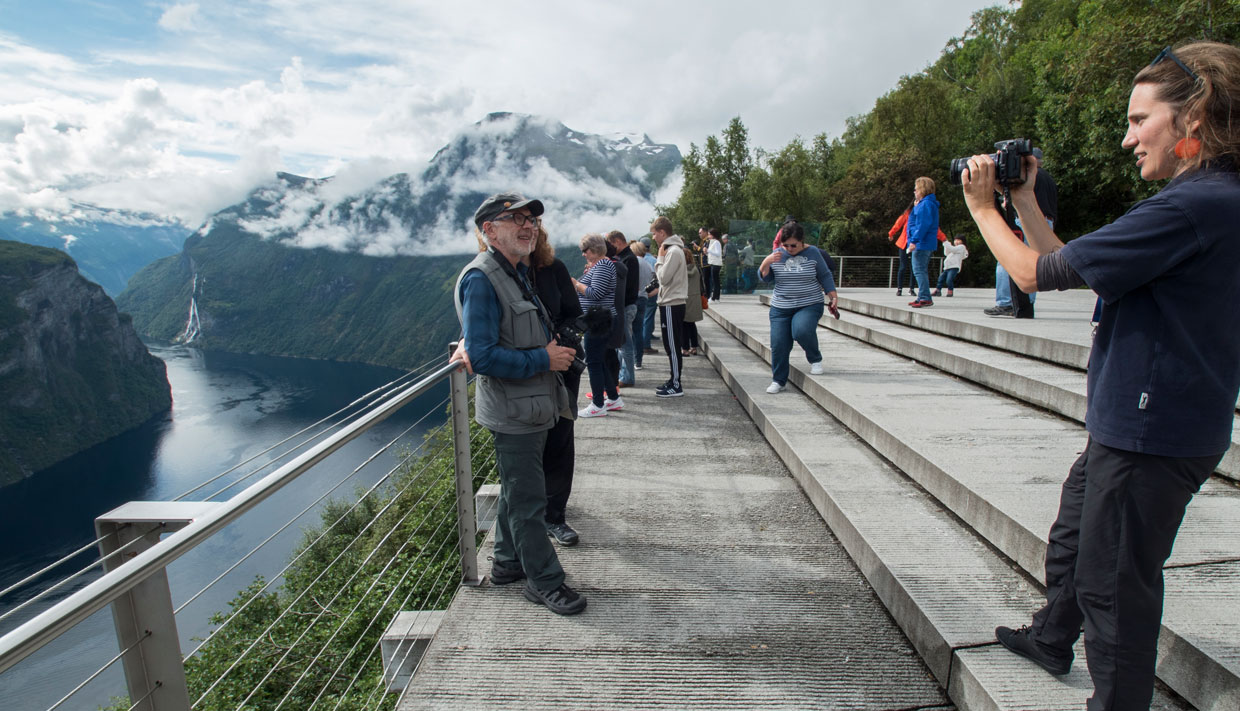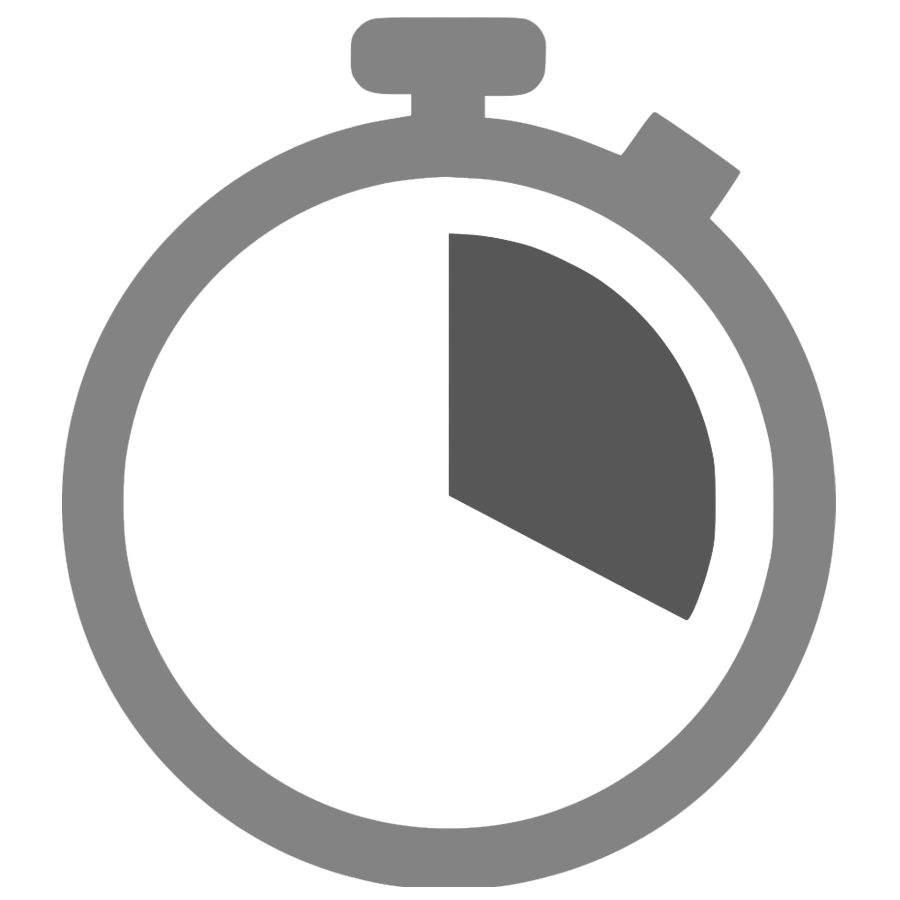 Duration: 3 hrs. See all famous viewpoints of Geiranger within 3 hours. From Eagle Bend with the view to the famous waterfall "The Seven Sisters", Mount Dalsnibba with the new viewing platform "Geiranger Skywalk" 1500 meters above sea level and Flydalsjuvet, one of the most popular photo motifes of Norway. All 3 viewpoints let you enjoy the dramatic norwegian fjord and mountain landscape and yet they are all unique.
From Geiranger the bus follows a steep serpentine road, stops at Flydalsjuvet and goes further into the mountains up to the top of Mount Dalsnibba. This route is considered as one of the most beautiful and spectacular routes of Norway. From Dalsnibba you go back in the direction of Geiranger to the next photo stop at the viewpoint Eagle Bend. From there you have great view to the fjord with the majestic waterfalls "The Seven Sisters".
Duration: 3 hrs, 3 photo stops included
Bus route: Geiranger – Flydalsjuvet (15 mins) – driving past Knuten, evidence of early road building skills – driving past lake Djupvatnet – Dalsnibba/Skywalk (15 mins) – Eagle Bend (15 mins) – Geiranger In case the road up to Mount Dalsnibba is closed due to bad weather, the bus stops alternatively at lake Djupvatnet.
​​​​​​Prices 2022: adults 580 NOK, children (4-15 y/o) 300 NOK
Included services: 3 hrs 15 min, 3 photo stops (Flydalsjuvet, Dalsnibba, Eagle Bend), information from bus driver in English, toll fee Nibbevegen (road up to Dalsnibba),
Information: bus driver is guiding in English (no guide/audio guide in the bus)
Season: from april to Oktober (tours not daily, see booking calendar on this website)
Departure times: see booking calendar on this website
Meeting point: at the main road in front of the tourist information building in Geiranger
Facilities: toilets (Flydalsjuvet and Dalsnibba), souvenir shop (Dalsnibba)
Maximum number of passengers: 45 seats
Tickets: availbale at the ticket counter in the tourist information in Geiranger and online on this website
Please be at the meeting point at least 10 minutes before your scheduled departure time.