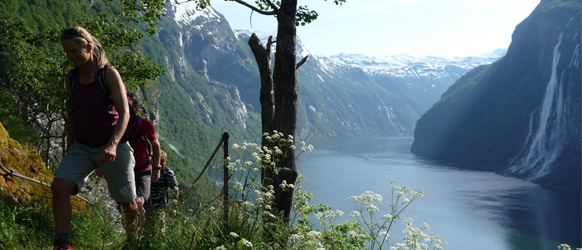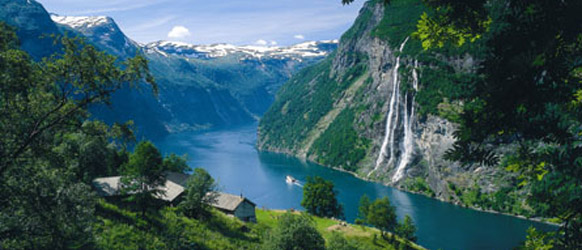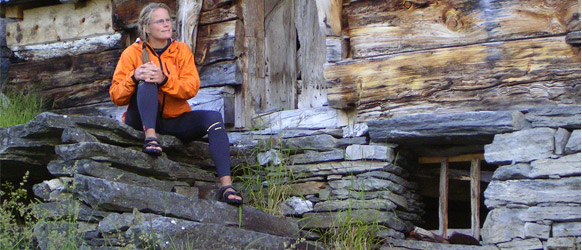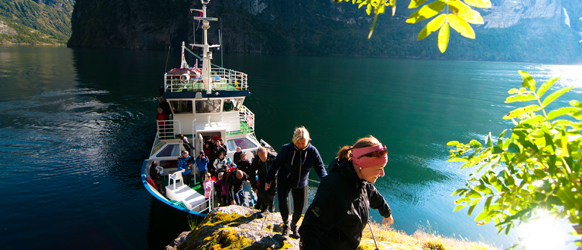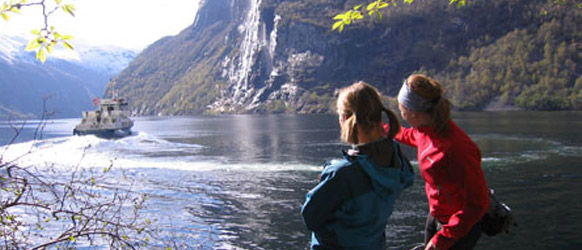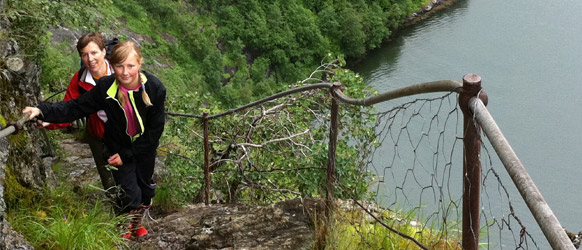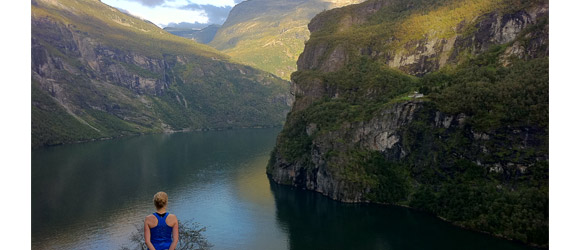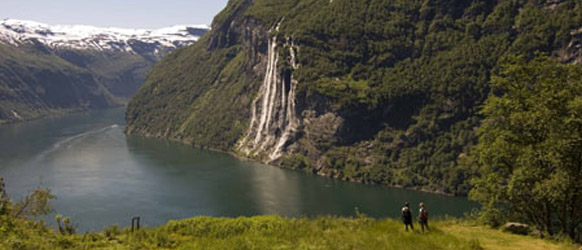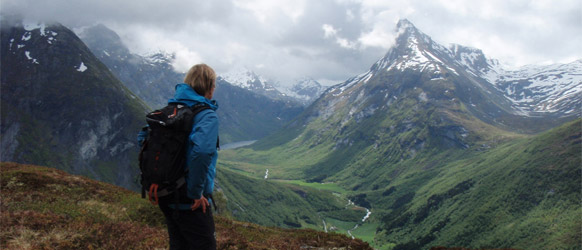 Skageflå, - an abandoned farm with an amazing view and history.
Join the historical and spectacular hike to the abandoned mountain farm Skageflå! Experience unique viewpoints and exciting stories from the old life on the farm! We return to town over Homlongsætra.
Summit Geiranger arranged the hike. We are a local company offering guided hikes to farms and summits in the Geiranger Fjord area. You will enjoy the knowledge of a local guide telling stories from the mountains, the farms and the people living there.
The trip starts by the tourist information. We walk to Notanaustet for the equipment for the boat ride. From there it is a 10 minutes boat ride with RIB boat to Skaggehola where the hike starts. The hike goes up the steep and historical path to the farm situated around 250 meters above sea level. This is a dramatic path, but the path is good and the most exposed parts have been secured. The fjord rapidly disappears underneath us, as we approach the farm. After only half an hour we are at the farm Skageflå, and the majestic view towards the Seven Sisters Waterfall and the mountain farm Knivsflå opens up to us. At Skageflå we will do a little walk around the houses, telling stories from the good old days.
At Skageflå you have some time to fill up with some energy, or just to take plenty of photos!
Continuing from Skageflå, the path is still steep uphill. A short part is a little exposed, but mainly we walk in the forest for around an hour until we reach Homlongsætra at 544meters. We will take you to our favorite's viewpoints, including wonderful views of the waterfalls and farms further out the fjord. At Homlongsætra you will enjoy your lunch.
From Homlonssætra, the hike continues down towards Homlong. This part takes around one hour, and is not as steep as coming up. From Homlong to Geiranger we walk along the the fjord on a dirth road for 30 minutes.
The hike is demanding, but anyone with reasonable fitness, some full day hiking experience and a minimum of equipment can join.
Duration: 4,5 - 6 hours.
Date: 01. June until 01. September 2018
Meeting time: 08:15 outside the tourist information, please let our staff know who you are so the guide can find you fast,
Price: NOK 3500 (1-5 people) NOK 5500 (6-8 people) you always purchase the whole tour we are not selling it per person.
Including in the price: guide and transportation by RIB boat to start of hike
Equipment needed: Rain jacket. Proper hiking shoes are recommended, but good sport shoes can be used.
*Lunch: this can be ordered from Geiranger Bakery for extra cost. Bring enough food, energy and beverage.