Experience the geiranger fjord from a Kayak. It is a unique way to take in the fjord from a close perspective!
Our Geiranger Kayak Centre is just one minute walk from the Ticket Office in the Harbour of Geiranger town. Close to ferry terminal, car parking, cafes, shops, and toilets. Let our qualified guides lead you for a fun kayak adventure on the Geirangerfjord. We take you on a circuit past sheer cliffs and towards the 'seven sisters' waterfall view. Our stable kayaks are easy to paddle and turn so you can relax to enjoy the scenery. Past paddling experience is not necessary, but a lot of energy, enthusiasm and good humor are helpfull.
Included in the price: Kayak guide/instructor, fundamental instruction, kayak and all necessary equipment.
Meeting Place: Geiranger Tourist information Center (Red kayak)
Minimum numbers: 2 people, max 10 per guide.
Time: From May to September **contact us if you want to adjust the departure time to start the trip later.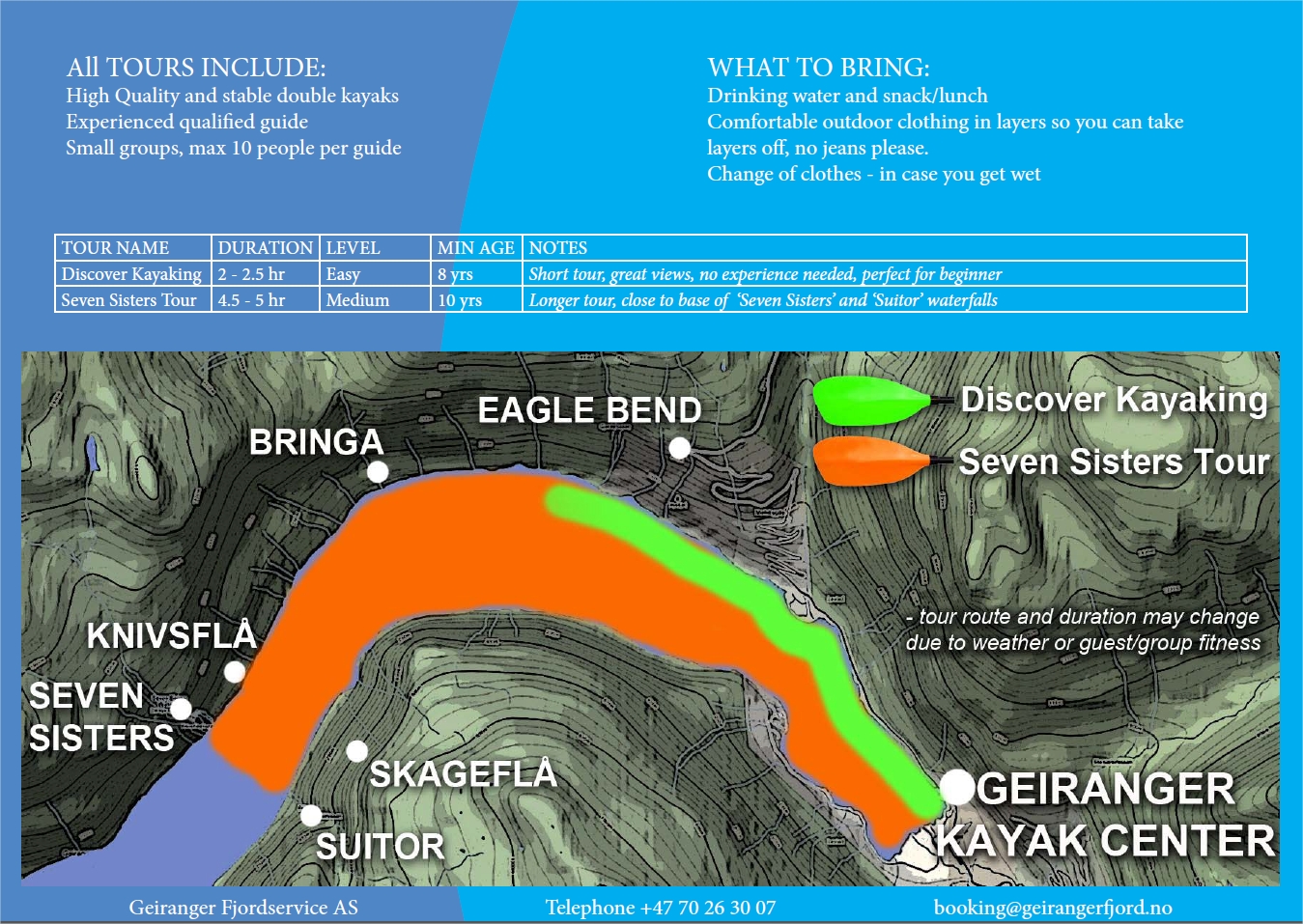 Discover Kayakking - 2,5 hr
The Discover Kayaking Tour is our shortest and easiest one. We start at the kayak base in Geiranger harbour and paddle down the fjord towards the point where you can see "The Seven Sister" waterfall. The guide will take good care of you and tell you all interesting facts about the Geirangerfjord and the surroundings. Remember to bring a camera to capture the stunning scenery and amazing views, you only get from the cockpit of a kayak.

Duration: 2,5 hours. *depends on the groups physical ability and the weather conditions on the day.
Price: NOK 950,- (adult), NOK 750,- (child 8-15) *minimum 8 yr.
Departure times: Every day 10:15, and 14:00 (Please contact us if your group would like a different time)
The Seven Sisters Tour - 5 hours
Experience the Geirangerfjord and its majestic waterfalls from sea level with a small group of kayakers, accompanied by a guide. The Seven Sisters Tour starts at our Kayak Center in the Geiranger harbour. From there you paddle down the fjord until you reach the spot in between the famous waterfalls "The Seven Sisters" and "The Suitor" - a great place to capture the unique views of the fjord with a camera! Your guide will take good care of you and provide you with interesting facts about the Geirangerfjord and its surroundings. .
Duration: about 5 hour. *depends on the groups physical ability and the weather conditions on the day.
Price: NOK 1150,- (adult), NOK 1050,- (child 10-15 yr) *minimum 10 yr.
Departure times: Every day 10:00 or later (Please contact us if your group would like a different time)
Kayak Rental
Are you an experienced kayaker? Would you like to explore the fjord on your own? Then feel free to come to our Kayak Center in Geiranger harbour. We are open 9:00-17:00, from end of May until mid September. You can choose from single and double kayaks. Our freindly rental staff will give you all the gear (life jacket, spray skirt, paddle) and the information with a map of the area. If you are planning to be out there for more than 3 hours, think about your time of arrival. The Kayak Center is closed after 17:00
We don't accept online bookings for kayak rental, only for guided tours. We have many single and double kayaks so there is no need to book them it in advance. It hardly ever happens that we run out of kayaks. Nevertheless, the best way how to secure your kayak during the high season (July, August) is to come early in the morning. booking@geirangerfjord.no
| Duration | Double Kayak 2020 | Single kayak 2020 |
| --- | --- | --- |
| 1 hour | 480 NOK | 360 NOK |
| 1 – 3 hour | 815 NOK | 500 NOK |
| 3 – 6 hour | 1 090 NOK | 625 NOK |