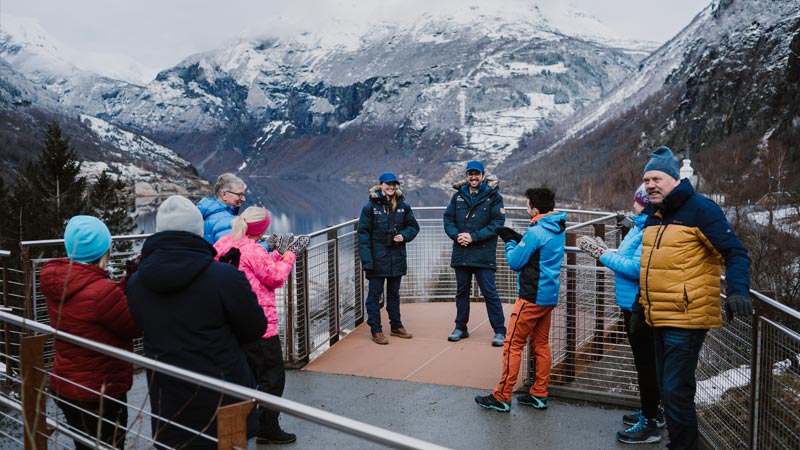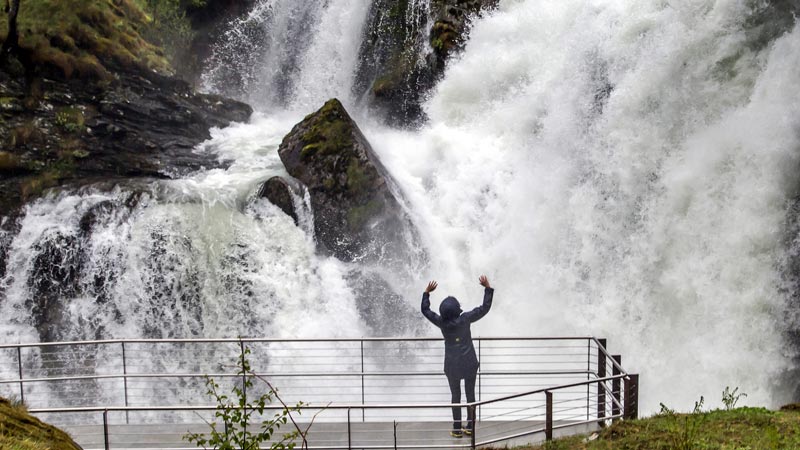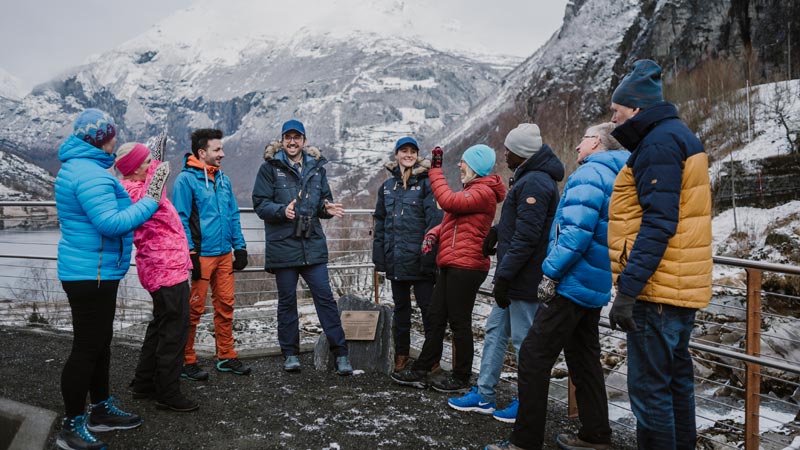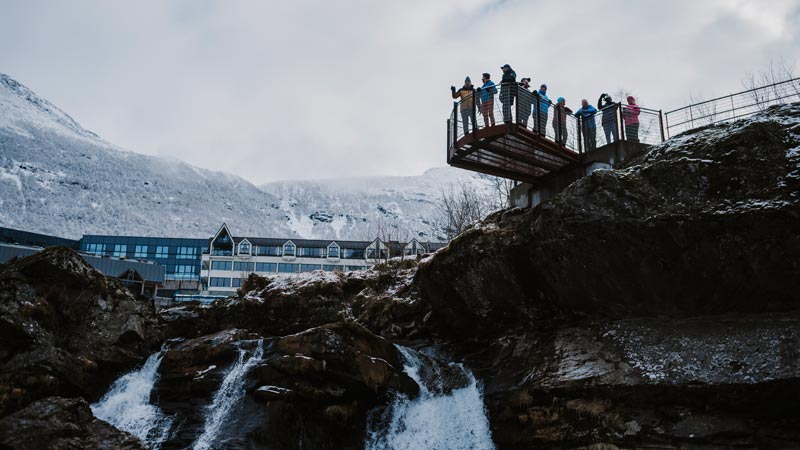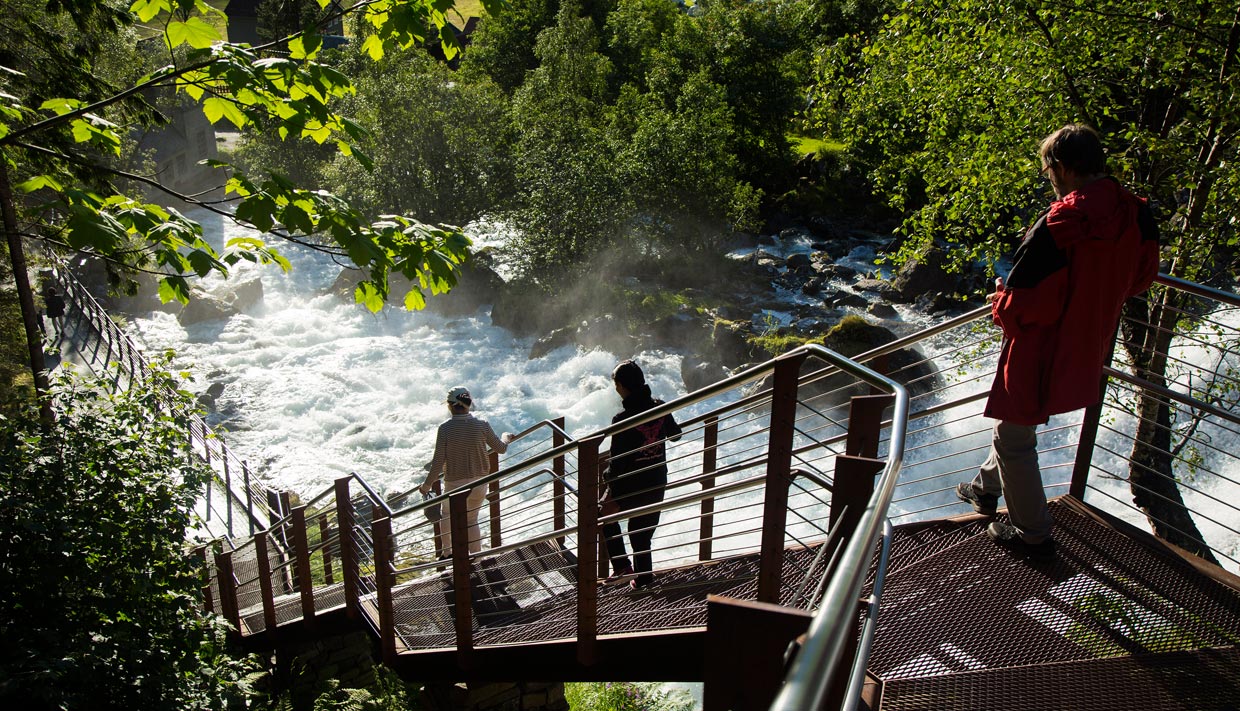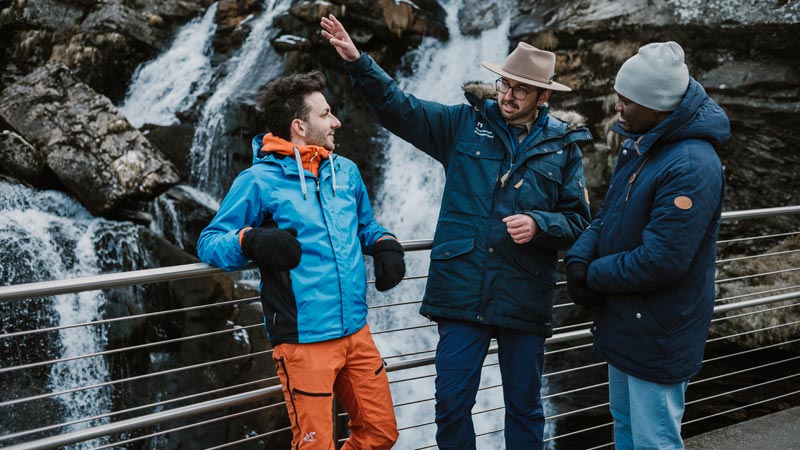 About the adventure
Are you a fan of waterfalls, rivers, spectacular viewpoints and local stories? Then a waterfall hike with one of our Fjord Rangers is just the thing for you!
During our hike, you will get close to the wild, beautiful river. You will hear the stories about how the forces of water have shaped the World Heritage landscape for thousands of years. Maybe you will also discover plants, animals or birds that live close to the river?
When we reach the two old hydropower plants, you will have an insight into how the pioneers in the village early saw the possibilities of hydropower - a lesser-known fairy tale in the story of Geiranger.
The waterfall walk starts in the centre of Geiranger, continues along the Geiranger river and up to the Norwegian Fjord Centre.
The waterfall Storfossen is the largest attraction along the way. Every season, the river changes and therefore provides a different experience. During spring, the snow is melting and fills the rivers with lots of water. You can literally hear how the rocks roll and move when the river goes wild! The forces of the rivers are enormous and dangerous, and we must respect them - therefore remember to keep distance! During winter, everything is frozen. In the "blue hour", this hike is almost magical.
Practical information:
Departure/Time: 12:00 o'clock daily, the whole year
Prices
Adult 16+ NOK 600
Child (5-15) NOK 300
Pensioner/Student NOK 510
Family ticket NOK 900
Includes:
Educational programme with a Fjord Ranger up along the waterfall hike.Entrance to the World Heritage Visitor Centre / Norwegian Fjord Centre.Book about Gaute Gneiss (only for children)Free Wi-Fi.
Duration/period:
Min. 1 hour and 20 minutes on foot (extra time is needed for the exhibition. Every day the whole year.
Meeting place: At the tourist information at the center of Geiranger.

Attendance time: 15 minutes before the tour starts.
Necessary equipment: Dress according to the weather, with good hiking shoes. No need for other equipment.
Available facilities: Exhibitions, Cinema auditorium with a film, Toilets, Café, Shop, Outdoor area with camp space, parking, toilet facilities.
Difficulty: Medium.
Number of participants: Minimum 2 people, maximum 12 people for every group/ranger.
The waterfall hike has 326 steps and is approx. 0.9 km long. The trip starts at the Tourist Information on the quay and ends at the Norwegian Fjord Centre, 85 meters above the fjord.
With participants from different countries, the tour will be conducted in English.The programme is primarily aimed at adults and older children. At group bookings, we have a better possibility to adapt the programme according to age/level. There is a fence along with large parts of the hike. Children under the age of 15 must be accompanied by an adult.Booking from groups, we can adapt the program better according to the age and level.