Exclusive Fjordsightseeing Geiranger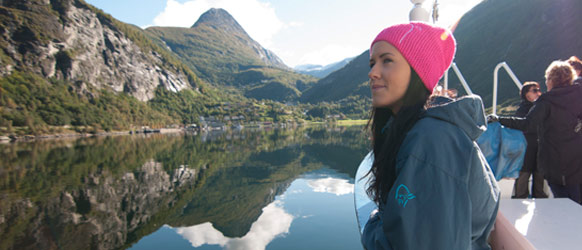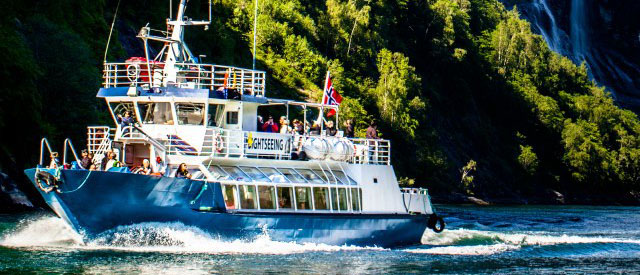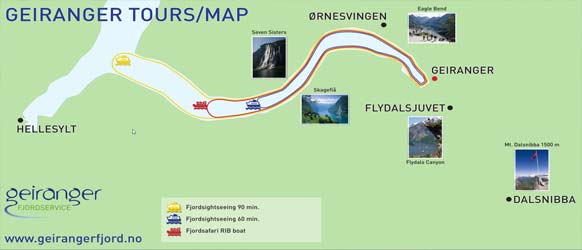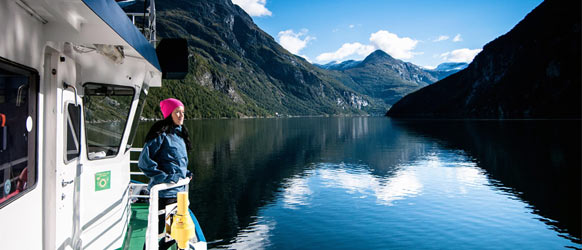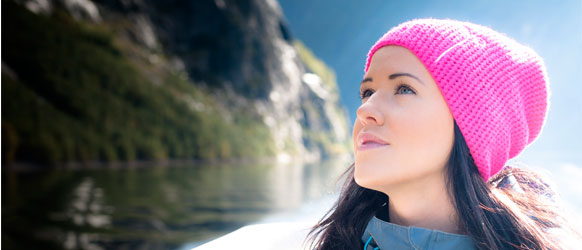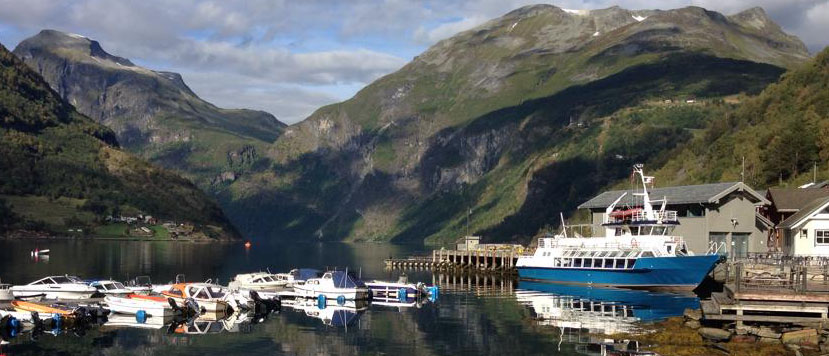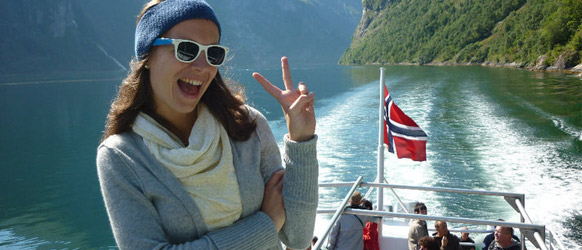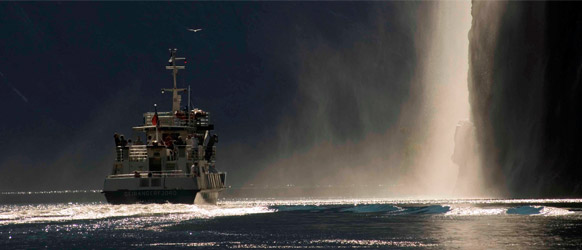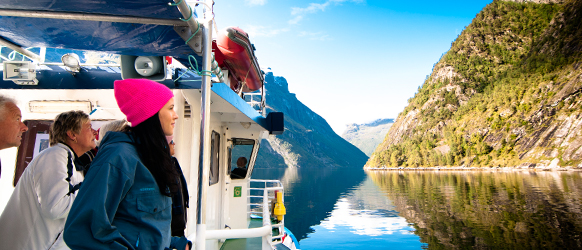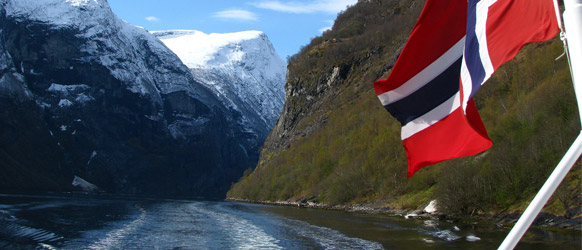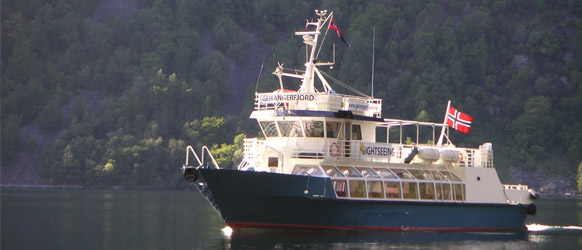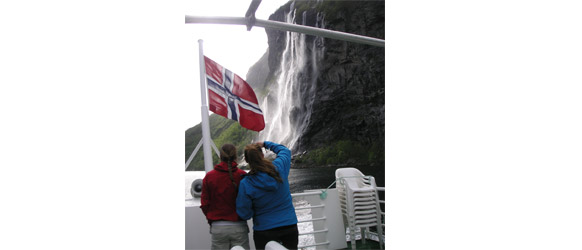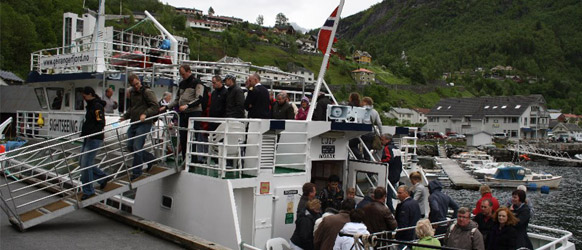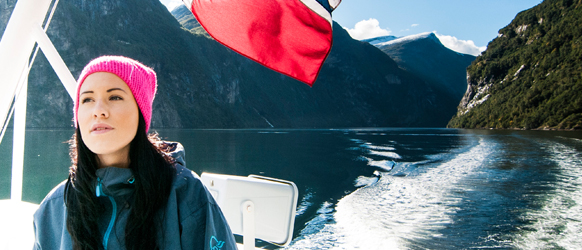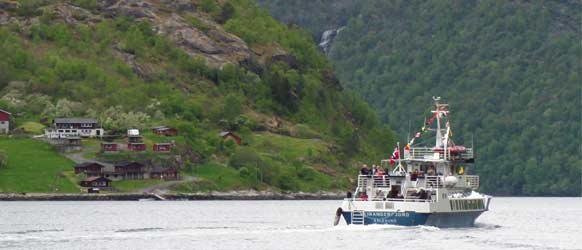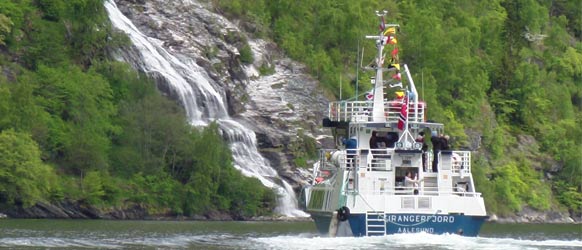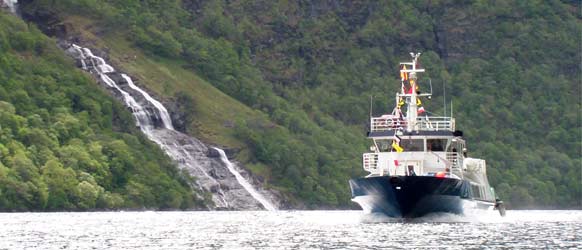 For some of the very best and most dramatic fjord scenery anywhere in Norway, don't miss the chance to experience the Geirangerfjord UNESCO World Heritage site from our sightseeing boat. The scenery here is absolutely breathtaking. Take a closer look at the "Seven Sisters", "Bridal Veil" and "Suitor" waterfalls, the majestic fjord cliffs and abandoned mountain farms. Perhaps you'll be lucky enough to see porpoises playing in the fjord. Don't forget your camera.
| | |
| --- | --- |
| Audio introduction trailer: | |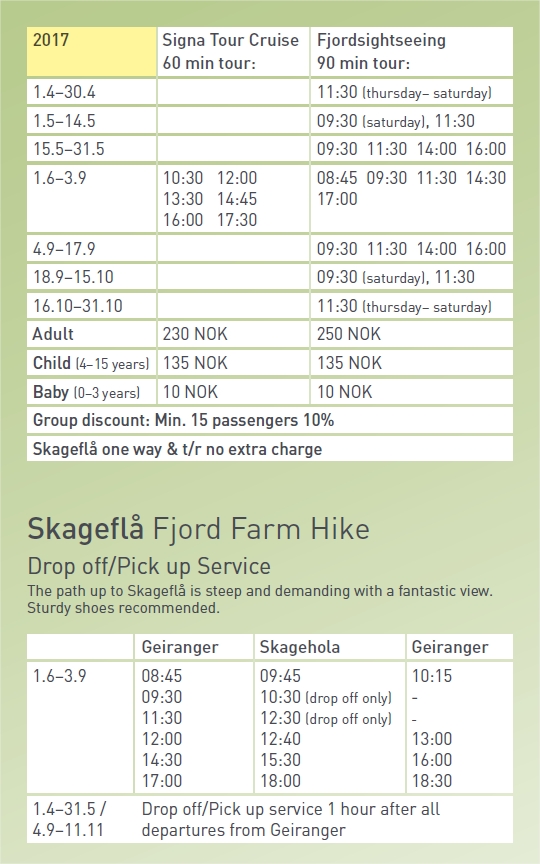 Duration:

90 min or 60 min tours (*Skageflå drop off see own link) click to see the map of the tours

Journey:see map
90 min Fjordsightseeing: 16 km along the whole Geirangerfjord inkl. all the famous waterfalls: "Seven Sisters", "Bridal Veil" and "Suitor" and the Fjordfarms
60 min SignaTour Cruise: photo stop infront of "Suitor waterfall" 8 km along the Geirangerfjord inkl. the famous waterfalls: "Seven Sisters", "Bridal Veil" and "Suitor"
Recorded commentary:
Available in 12 languages: Norwegian, English, German, French, Spanish, Italian, Czech, Japanese, Korean, Mandarin, Polish, Portuguese
Facilities:
M/S Geirangerfjord: Kiosk selling snacks/drinks, WCs, inside area and outside panorama deck,
M/S Sognesjø: WC, inside area and outside panorama deck,
Capacity:
165/48 passengers MS Geirangerfjord (Pier1) MS Sognesjø (Pier2)
Price 2017:
90 min Fjordsightseeing: Adults NOK 250, children (4-15) NOK 135, children under 4 year 10 NOK,
60 min SignaTour Cruise: Adults NOK 230, children (4-15) NOK 135, children under 4 year 10 NOK,
Tickets:

At the ticket counter located in the Tourist Information office at the pier, or online here.
Your online booking confirmation is your boarding ticket. You will need to present this to the crew when boarding. It contains a QR code that will be scanned. Just prior to boarding make sure you have either printed this document or have it on your smart phone screen ready to be scanned. Tips: this may require you to save this confirmation off line for example, as a screen shot/capture in your photo folder.
Please meet on the departure point at least 20 minutes before your scheduled departure time.

Departs from:
behind the Geiranger Tourist information/ticket office, 20 m from the cruise ship quay (FILM: Tickets, please!)
Read more
Geiranger Fjordservice AS offers exclusive fjord cruises on the world-famous Geirangerfjord.
Geirangerfjord sightseeing offers an excellent way to explore this magnificent section of the UNESCO World Heritage Site in comfort on board the local sightseeing boat M/S Geirangerfjord.
The modern, graceful and well-appointed M/S Geirangerfjord can accommodate up to 165 passengers. The fjord cruise lasts around 90 minutes, and light refreshments can be purchased on board. There is an outside viewing deck and an inside area with large panorama windows.
The fjord cruise takes passengers for a close-up view of the waterfalls known as the "Seven Sisters", the "Bridal Veil" and the "Suitor". You'll also be able to admire many of the abandoned fjord and mountain farms along the fjord.
Information about the scenery and landmarks will be provided in five different languages.
For extra flexibility, we operate a drop-off and pick-up service for those passengers who prefer to spend some time visiting the isolated fjord farms, either on their own or as part of an escorted tour.
Welcome aboard!
THE SEVEN SISTERS
Standing on the deck of the boat and feeling the spray from the waterfalls is a very special experience. The highest of the "Sisters" has a free fall of 250 m.
THE SUITOR
According to legend, the "Suitor" tried to propose to "the Sisters" on the opposite side of the fjord – but never succeeded. The cruise passes very close to the "Suitor".
THE PULPIT ROCK
A mountain formation, close to Skageflå.
SKAGEFLÅ
Skageflå is the best-known fjord farm and the end point of the most popular fjord farm hike. Norway's King Harald and Queen Sonja celebrated their silver wedding here in 1993, and the Queen has visited the farm on several occasions since.
KNIVSFLÅ
This fjord farm lies next to the "Seven Sisters" waterfalls and directly opposite Skageflå fjord farm. Knivsflå is approximately 250 m above sea level.
BLOMBERG
Blomberg fjord farm can be reached via a steep path from the fjord. The farm is 450 m above sea level and boasts beautiful views over the Geirangerfjord, including the "Seven Sisters", the "Bridal Veil" and the "Suitor".
MATVIK
Matvik lies close to the water, almost at the end of the Geirangerfjord, and was one of the last farms to be abandoned, as late as 1961. It was a fertile farm and at one time had 150 plum trees. They even grew apricots here!
THE EAGLE ROAD
This stunning road has 11 hairpin bends, the highest of which is called Ørnesvingen, the "Eagle Bend". From here, you can enjoy fantastic views over the fjord, towards the Pulpit Rock and the "Seven Sisters". It's the perfect place to spot cruise ships on their way into the Geirangerfjord.
FAQ
M/S Geirangerfjord

Why should I choose the fjord sightseeing cruise on board M/S Geirangerfjord?
We're a locally owned and run company with lots of experience – over 4 million passengers since 1970!
We offer a fjord sightseeing cruise that takes you the entire length of the Geirangerfjord, part of the UNESCO World Heritage site.

Do I need to prebook?
M/S Geirangerfjord departs up to four times daily between the months of May and September. We recommend prebooking whatever the time of year, particularly in peak periods, to avoid unnecessary delay or disappointment. You can check seat availability and book online, or call our Reservations Team.

How long is the cruise and how do I get there?
You'll spend 90 minutes on the fjord. You can find us in the centre of Geiranger village, right behind the Tourist information office at the harbour. It's an easy 2-8 minutes' walk from any of the car parks in Geiranger.

Which languages is the audio guide available in?
Our standard languages are Norwegian, English, German and French.

If I arrive by car, what coordinates should I put into my GPS?
Long: 62.102276176
Lat: 7.2044563293

Where can I park my car?
There is free parking along the main road in Geiranger, at the ferry terminal and at the supermarket. There aren't many places, so in the middle of summer you may want to park your car a little outside the centre.

If I book online, where do I exchange my booking reference for a boarding card?
A booking confirmation will sent to your email after booking. The confirmation contains a PDF with a QR-code – this is your ticket. When arriving in Geiranger, please proceed straight to boarding with the confirmation available (printed or on your smartphone).

What is your cancellation policy for individual customers?
In accordance with our terms and conditions, no refunds are given. The booking is binding once the tour has been confirmed and paid for. We recommend taking out a travel insurance policy that includes cancellation cover. In the event of cancellation due to illness, you should then contact your insurance company, which will pay the refund where applicable.
We will refund the tickets should your cruise ship not arrive in Geiranger. (This is very rare.)
We are also flexible about changing dates or departure times if you arrive late, provided you contact us beforehand and there are spaces free on other tours or departures.

What should I wear?
We recommend that you dress for the conditions and bear in mind that there will be some wind-chill factor as you are travelling on a boat. Bring sunglasses and a hat. We recommend bringing a jacket and maybe some thermal clothing even in summer if the weather is not so warm. There is also an inside area with big panorama windows.

Can I bring my dog?
Yes, no problem, though we ask you to stay on the viewing deck or at the front or back of the boat during the trip. We like to keep the indoor area animal-free for guests with allergies.

What happens if the weather is bad – rainy or windy?
The West Coast of Norway's weather is what gives the region its unique character. Rainfall is what makes Fjord Norway a land of lakes, rivers, waterfalls and fjords. Visitors should always be prepared for some rainfall during their stay. Experience our country in all its variations – you may even see a troll!
We recommend bringing sensible clothing for cool and wet weather so as to get the most from your visit.

If I come by cruise ship, is it worth taking this fjord cruise too?
If you arrive on a cruise liner, you often approach Geiranger early in the day and may be asleep or enjoying breakfast. Check your timing so you don't miss our cruise along the Geirangerfjord. Also, the cruise liners travel in the middle of the fjord, not so close to the waterfalls as M/S Geirangerfjord.

What is the difference between the ferry cruise from Hellesylt to Geiranger and the fjord sightseeing cruise on board M/S Geirangerfjord?
The ferry trip is designed to go from A to B, and takes 1 hour each way. You travel on a bigger boat in the middle of the fjord. You will see the same sights, and we recommend taking the ferry if you want to continue your journey at the other end. If you're looking for a classic fjord cruise, we recommend our fjord sightseeing cruise. There is also a difference in price.

Is M/S Geirangerfjord wheelchair accessible?
Yes, but please be aware that access changes slightly depending on tide conditions. Guests board the boat via a ramp, which can sometimes be a little steep if the water level is high. There is one high step to get into the indoor area or WC. Please contact us beforehand to ensure we can assist you.

Do you offer a family rate?
There is no family ticket but we offer a very good rate for children.

Will there be somewhere to leave my suitcase?
Yes, there is an area at the Tourist information office where you can leave your luggage. There are no locker facilities.

Can I bring my camera?
Definitely! There are plenty of great photo opportunities along the Geirangerfjord.

What facilities do you have on board?
We have a viewing deck and an indoor area with panorama windows. From June to August, there is a small café selling snacks and hot and cold drinks – why not try one of our delicious waffles?
Fjordfarm Skageflå Hike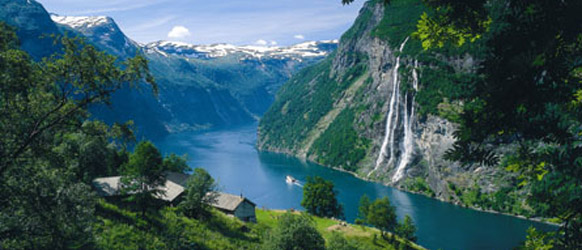 Combine a sightseeing trip on the water with a hike to Skageflå, the best known of the fjord farms along the Geirangerfjord. Norway's King Harald and Queen Sonja celebrated their silver wedding anniversary at Skageflå in 1993, and the Queen also unveiled an official UNESCO plaque here on 12 June 2006.
The ascent starts at Skagehola, where the boat drops you off, and is demanding. The path up to Skageflå is steep and breathtaking, with fantastic views over the Geirangerfjord. Skageflå perches on a mountain ledge approximately 270 m above sea level.
IMPORTANT: All hiking is at your own risk – use common sense when outdoors. Wear sturdy shoes and carry a drink. From Skageflå, you can hike over the mountain back to Geiranger, or follow the same path back down to the fjord and rejoin M/S Geirangerfjord.
If you want to combine a fjord sightseeing tour and a hike to Skageflå fjord farm, the following transport options are available: