Fjordsafari RIB boat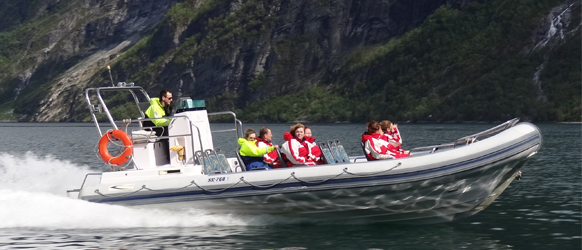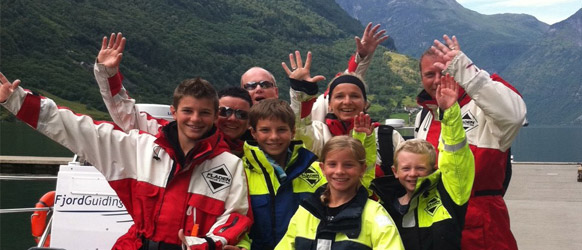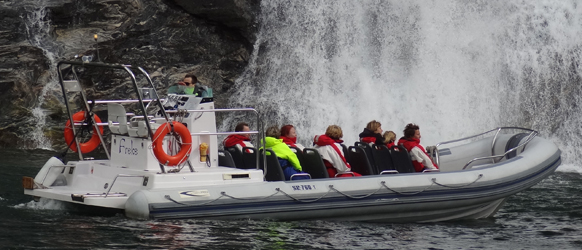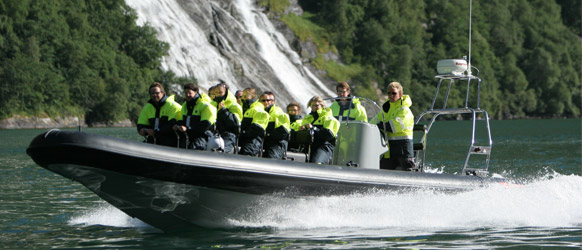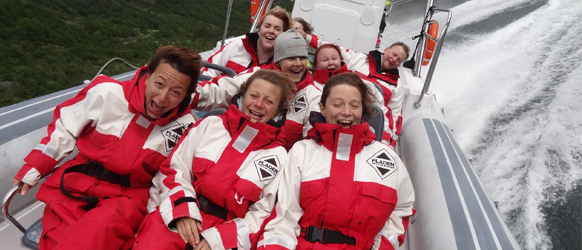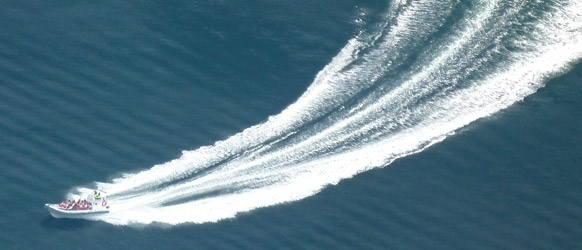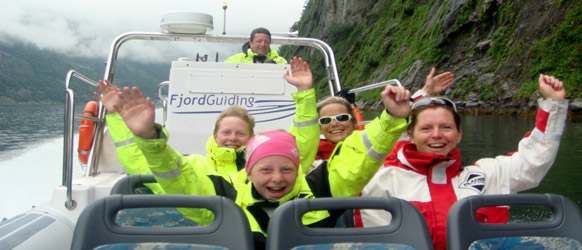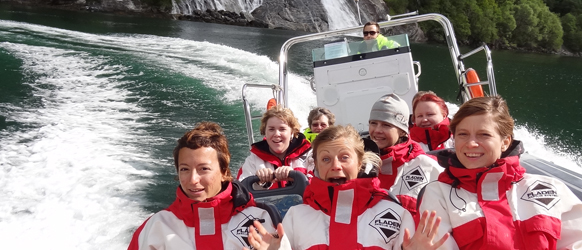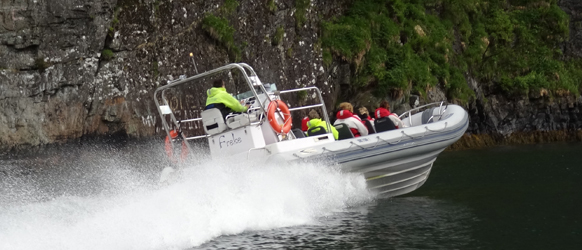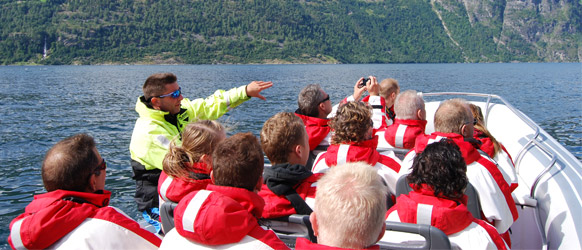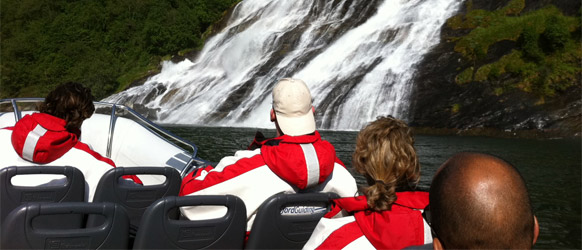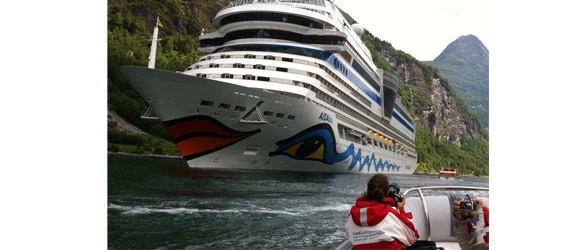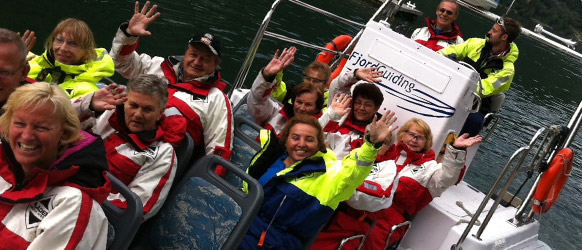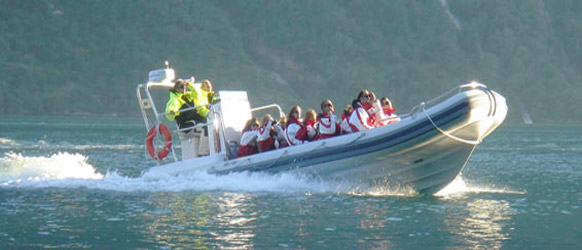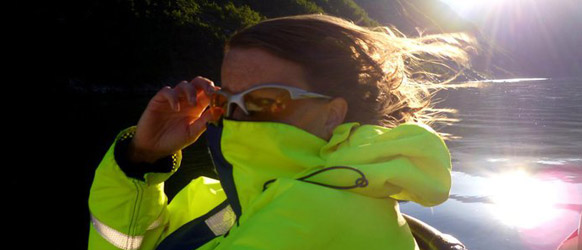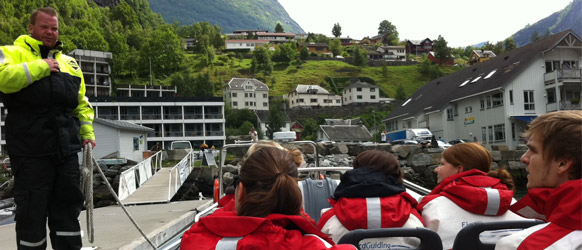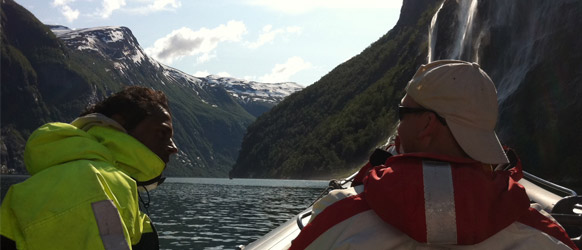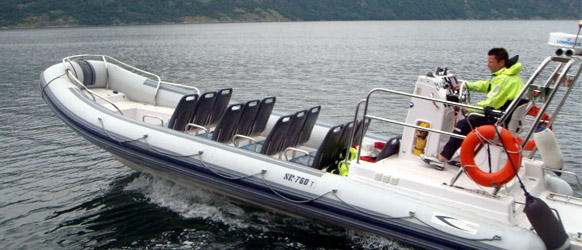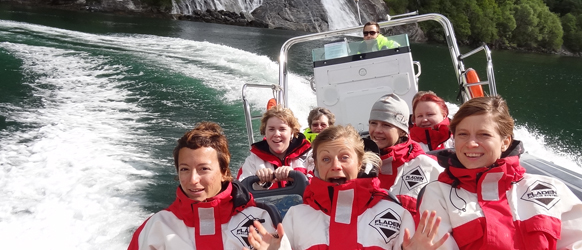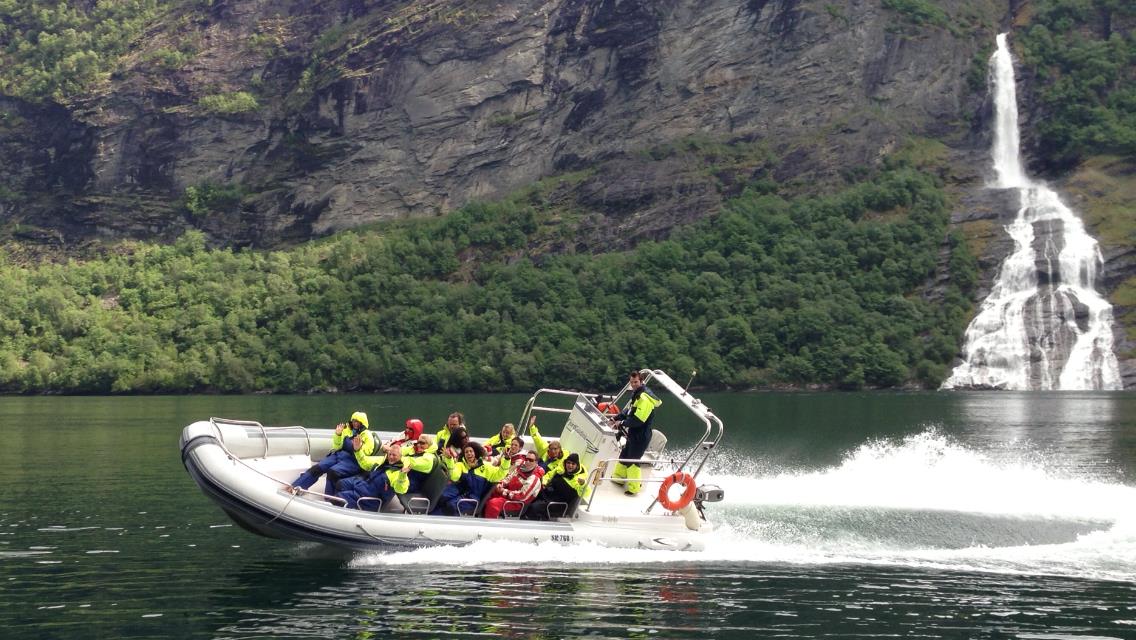 Get up close and personal with the Geirangerfjord on this adrenaline-filled RIB tour! You'll get to see all the waterfalls, and your guide will tell you fascinating stories about the people who used to live on the fjord farms. With a bit of luck, you'll spot some porpoises too! This tour offers the most complete experience of the Geirangerfjord.
Click here to watch a short teaser video of Rib Safari
Duration: 1 hour (including changing to weatherproof suit and safety briefing)
Itinerary: Geiranger - the "Seven Sisters" waterfalls - the "Suitor" waterfall - Blomberg, Knivsflå and Skageflå fjord farms - the "Bridal Veil" waterfall - Devil's Canyon
Departures: daily at 09.00 - 18:00 every hour 19th Mai 29th Sept. (outside the main season, check online booking page for departure times, or contact us)
Prices 2018: Adults NOK 695, children (4-15 years) NOK 395, minimum hight for children 120 cm, children under 13 years must be accompanied by an adult
Tickets: At ticket office (Geiranger Tourist information office) or online below.
Your online booking confirmation is your boarding ticket. You will need to present this to the crew when boarding. It contains a QR code that will be scanned. Just prior to boarding make sure you have either printed this document or have it on your smart phone screen ready to be scanned. Tips: this may require you to save this confirmation off line for example, as a screen shot/capture in your photo folder.
Please meet on the departure point at least 15 minutes before your scheduled departure time.
Meeting point: Outside the ticket office (Geiranger Tourist information office); free Wi-Fi for all our customers!
Includes: weatherproof suits, high-quality commentary by our drivers, boat ride in the fjord
Map
Read more
A safe and comfortable open RIB (rigid inflatable boat) is the most exciting way to experience the Geirangerfjord, and we take you closer to the waterfalls than anyone else! You'll be provided with a weatherproof suit and taken on a smooth trip along the calm waters of the fjord in one of our rubber boats, all with comfortable seats. As well as the iconic "Seven Sisters", "Bridal Veil" and "Suitor" waterfalls, highlights include the majestic fjord cliffs and abandoned fjord farms that lend this unspoiled region its particular and very beautiful charm.
With a bit of luck, you'll see porpoises playing alongside the boat or a sea eagle flying past.
Meet your guide outside the tourist office in Geiranger 10 minutes before departure. He'll take you to our base in a traditional fisherman's cottage, where you put the weatherproof suit on over your normal clothes. The walk from the house to the pier, where you get into the boats, is about 100 m. Each boat accommodates 12 people. This makes for a highly personalised tour and means our local guides have plenty of opportunities to tell you about the people who lived in the abandoned farms along the fjord.