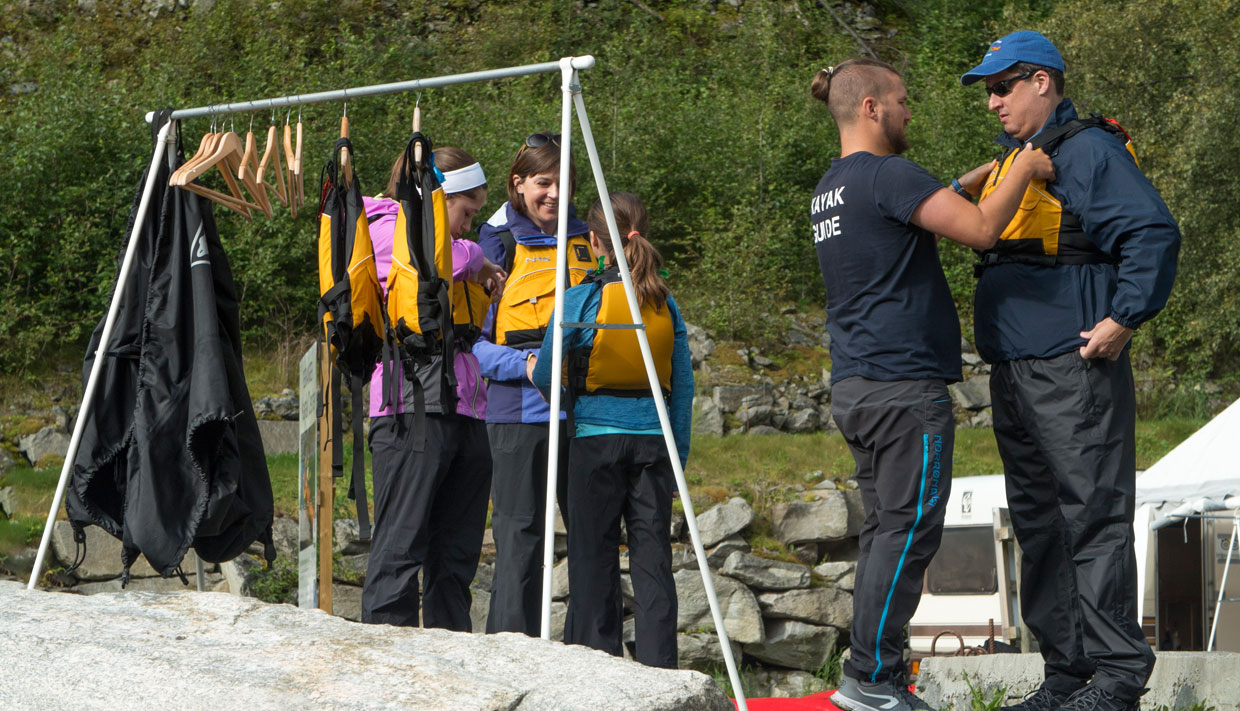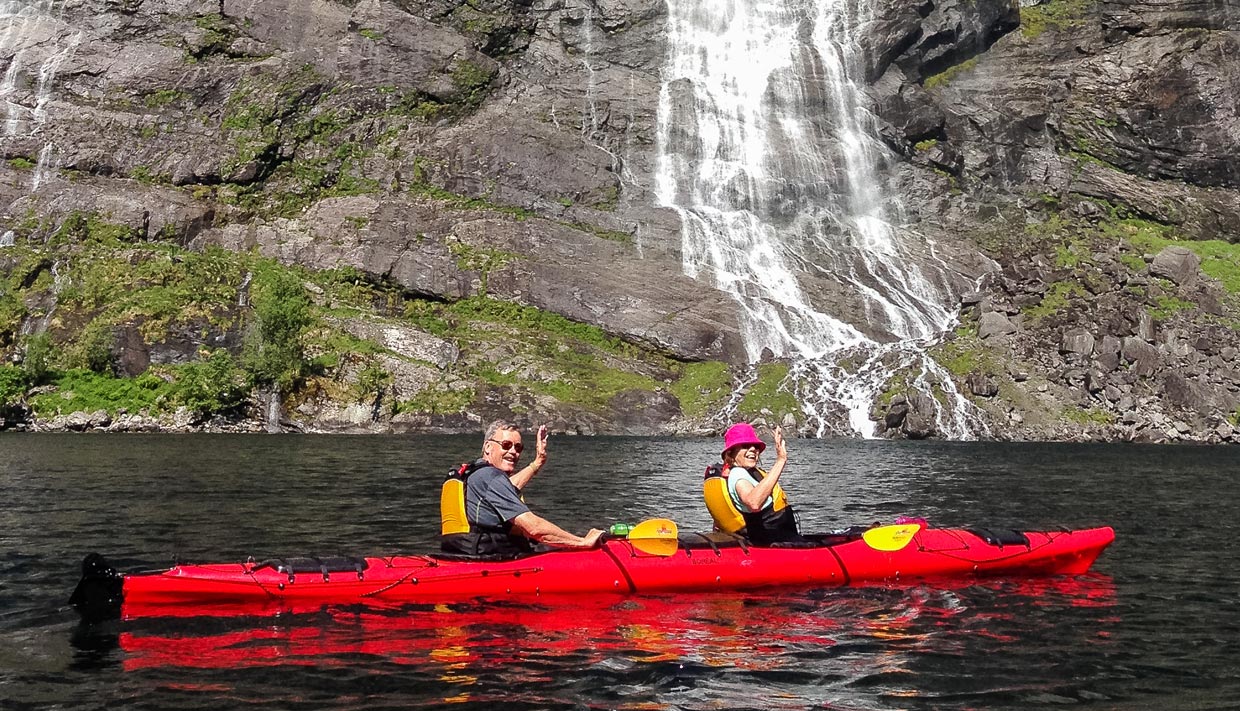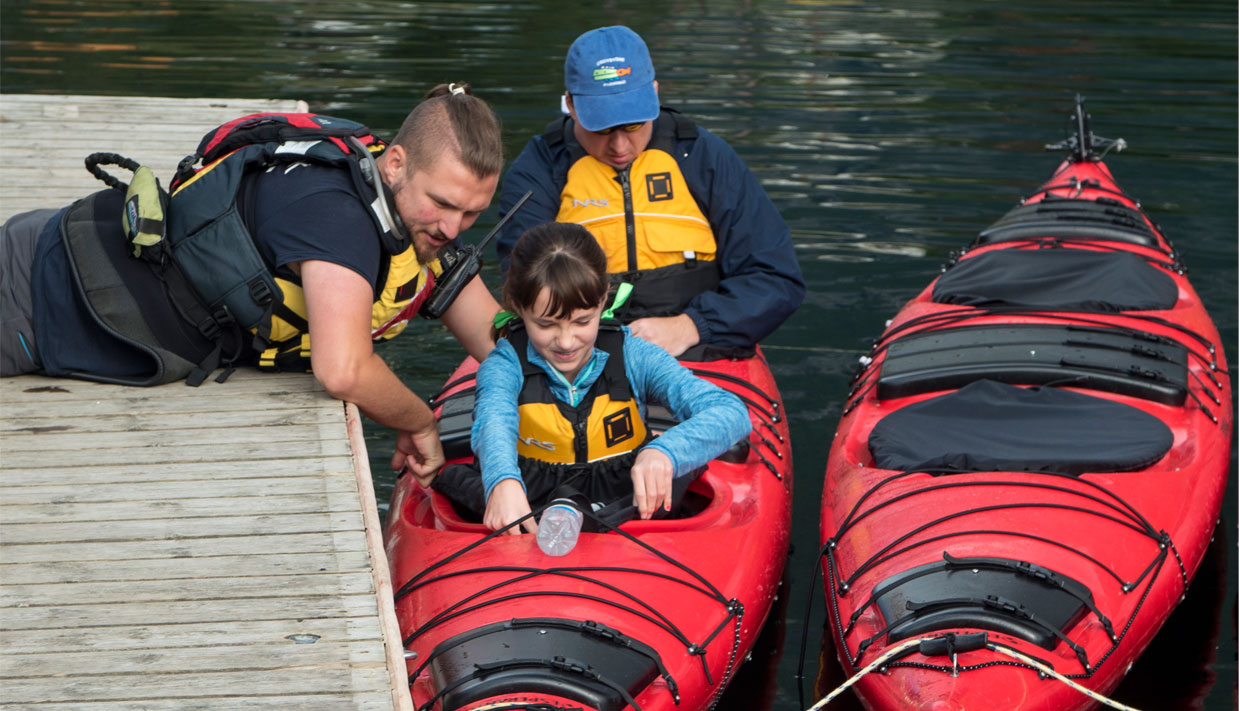 Are you an experienced kayaker? Would you like to explore the fjord on your own? Then feel free to come to our Kayak Center in Homlong, Geiranger. We are open 9:00-17:00, from end of May until late September. Once you make it to the Kayak Center, you can choose from single and double kayaks. Our freindly rental staff will give you all the gear (life jacket, spray skirt, paddle) and the information with a map of the area. If you are planning to be out there for more than 3 hours, think about your time of arrival. The Kayak Center is closed after 17:00
We don't accept online bookings for kayak rental, only for guided tours. We have many single and double kayaks so there is no need to book them it in advance. It hardly ever happens that we run out of kayaks. Nevertheless, the best way how to secure your kayak during the high season (July, August) is to come early in the morning.
Opening hours: daily from 9.00 a.m. to 5.00 p.m.
Tickets: available at the Kayak Center in Homlong and at the ticket counter in the tourist information in Geiranger
Online booking: via email only – kayak@geirangerfjord.no
Prices Double Kayak 2019
Duration

Price per kayak
(incl. VAT)

1 hour

480 NOK

1–3 hours

815 NOK

3–5 hours

1.190 NOK
Prices Single Kayak 2019
Duration

Price per kayak
(incl. VAT)

1 hour

360 NOK

1–3 hours

500 NOK

3–5 hour

625 NOK
Safety note
Sea kayaking has inherent risks and can be dangerous. In the Geirangerfjord these risks are characterized by remoteness, changing weather conditions, low water temperature and limited kayaking landing sites. A detailed risk management and strict safety procedures are mandatory. You will be notified in the Kayak Center about our safety regulations before you go on the water.
Only go on a kayak when you are able to swim.
Wear your life jacket at all times while you are in the kayak.
Keep safety distance to big ships and all kinds of boats.
Be aware of waves when ships and boats are passing and face the waves with your kayak.
Keep distance to the shore and do not paddle under cliffs (rockfall hazard).
Contact the Kayak Center immediately in case of problems on the water which could endanger your safety.

Be aware of the changing weather, bring an extra jacket and a water bottle with you. You might spend more time on the water than you expect.
Follow at all times the safety instructions of our team in the Kayak Center – to enjoy a relaxed and unforgettable kayak experience on the majestic Geirangerfjord.