Electric car tours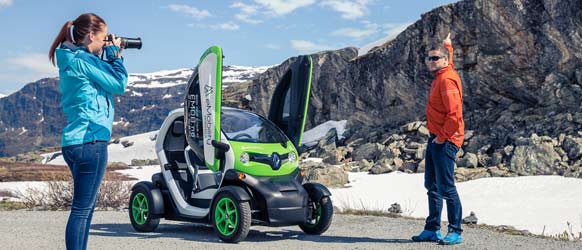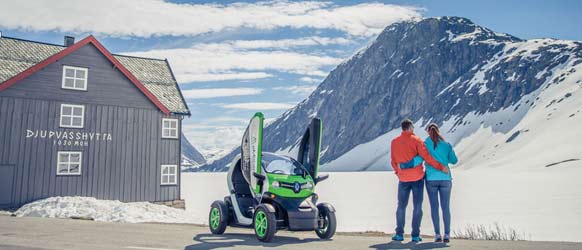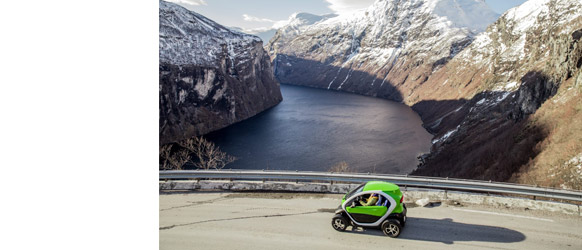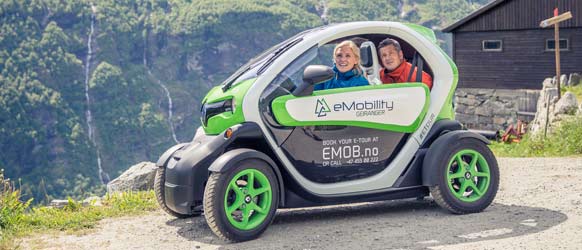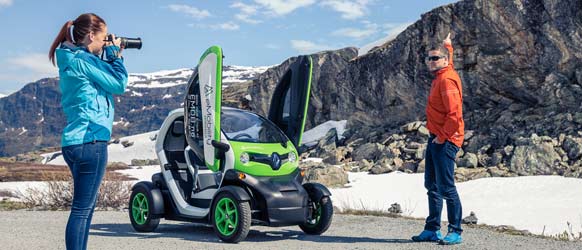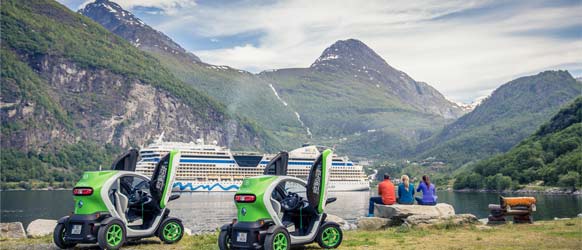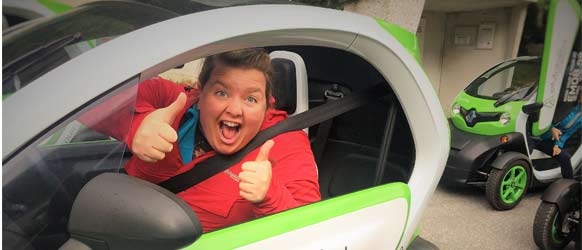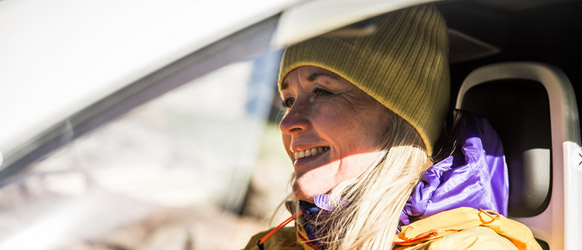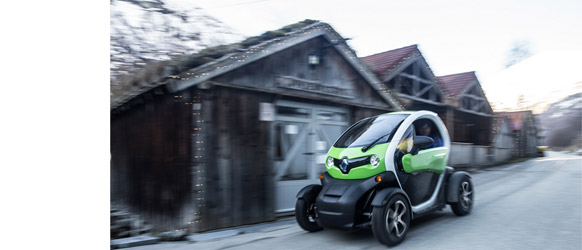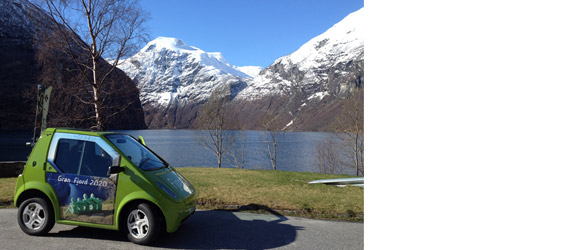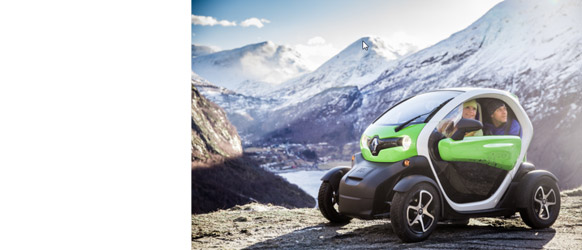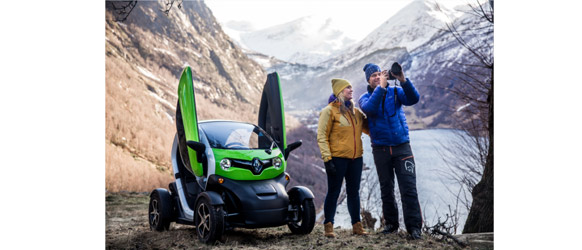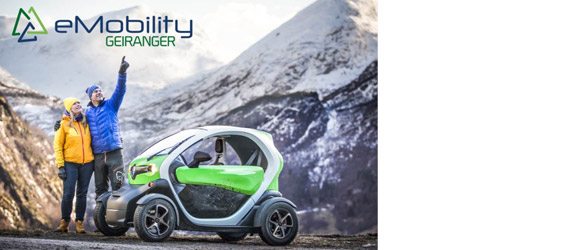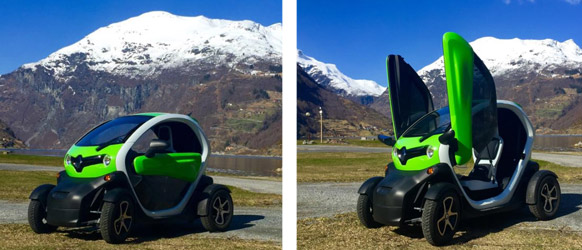 THE NEW GENERATION OF TOURS
Explore the Geiranger World Heritage Site in one of our eco-friendly Renault Twizy cars, with a GPS-based audio guide or your own VIP guide.
SMILE AND HAVE FUN!
ECO-FRIENDLY
EASY TO USE
AUDIO GUIDE AVAILABLE IN NORWEGIAN, ENGLISH, GERMAN, SPANISH, ITALIAN or FRENCH
| | | |
| --- | --- | --- |
| eTur | Duration | Price |
| Panorama view | 1 hour | 800 NOK |
| Seven Sisters View | 1 hour | 800 NOK |
| Geiranger Highlights | 2 hours | 1500 NOK |
| Skywalk Glacier view | 3 hours | 1850 NOK |
You can make a booking here directly in our online system. The time is flexible, so just let us know after you've made the booking what time you would like to pick up the car. When you arrive in Geiranger, you can walk directly to our electric car parking area. It is just 200 meter from the ticket office at Tourist information at the harbor. Be aware when you book 1 Person it means 1 car (for 2 person). Remember to bring your drivers licens.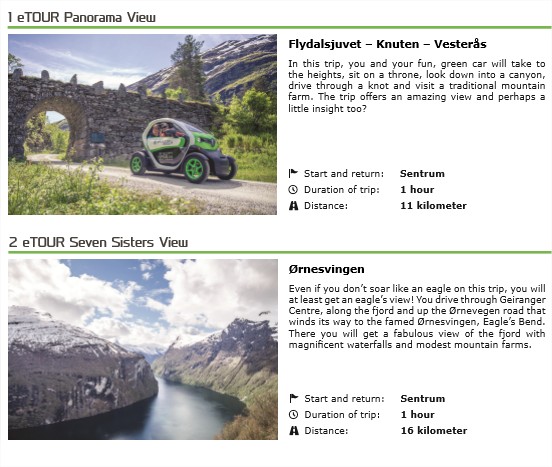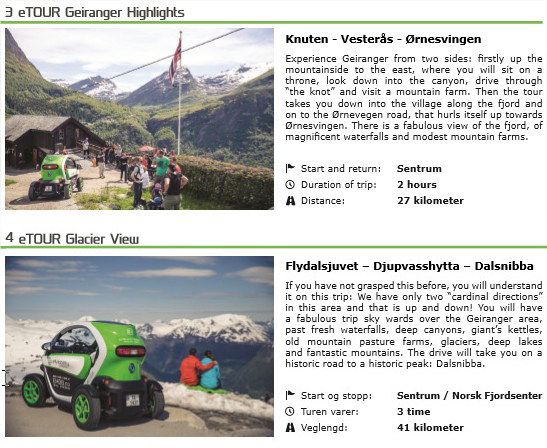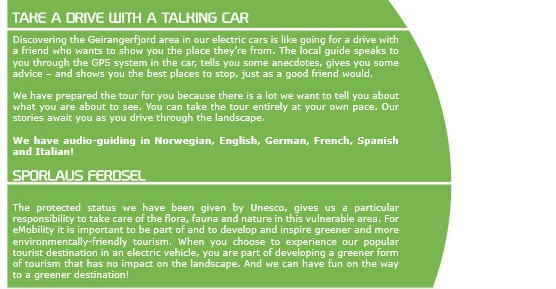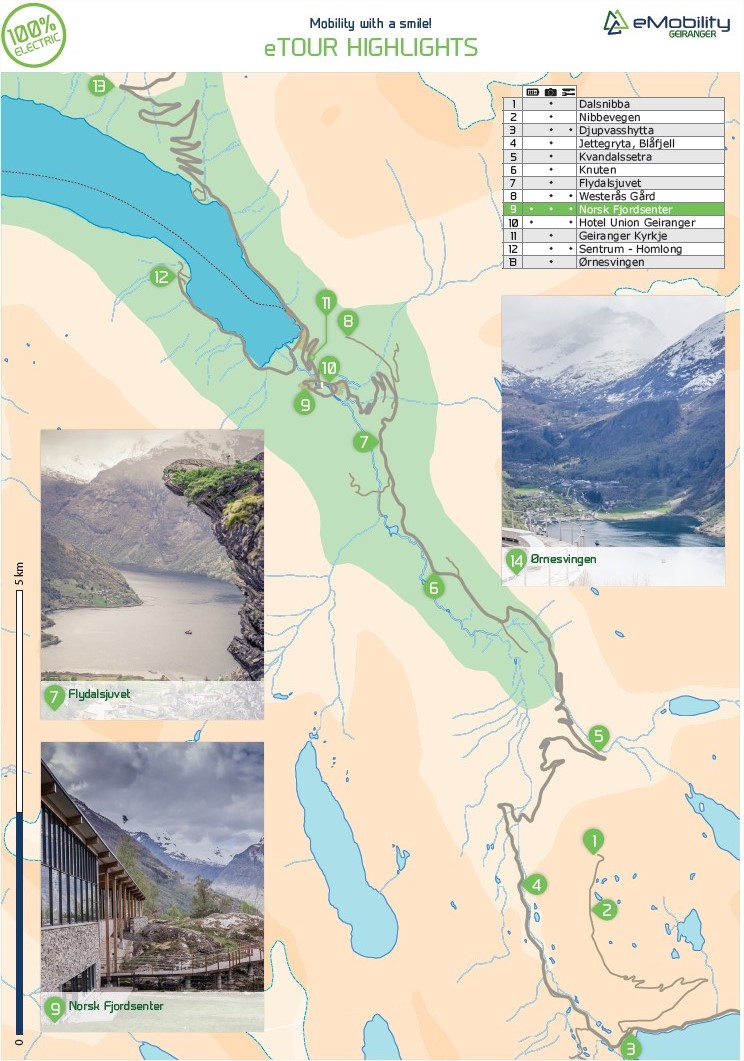 Safety and Insurance
Safety and Insurance
Driving an electrical car is easy and care-free. They are small, quick and get around everywhere – and of course safety comes first.We have liability insurance, driver and passenger insurance, comprehensive insurance and environmental insurance. The insurance excess is included in the price you pay for the rental.
The Twizy is light ( 450 kilo and 700 kg including the battery), and you will get safely and easily wherever there is a passable road. It has airbags in the driver seat and a three-point safety belt both in the front and back seats. There is space for a child booster in the back for children over 15 kilos.
You must of course drive carefully in these small electric cars. You may dream of driving around at top speed on our bendy roads, but there is one important reason to take it easy: 100 per cent electric means 100 per cent quiet. People and animals may not hear you coming, so you have to be careful!
The Car: Renault TWIZY
It is safe and simple to drive the nifty electric cars that we have in our fleet. We give you the training you need, before you start your journey. No CO2 emissions, just good clean fun!
The Twizy is perfect for big experiences on small roads and (almost) inaccessible places – of which there are many in the Geiranger area. The open cabin lets the wind blow through your hair and you'll feel close to nature. Since the car is somewhat unusual with two seats one behind the other, the experience may be shared with a good friend.
The car is 100 per cent electric, with a battery that has enough power to bring you around the routes we have planned for you. It is easy to drive, takes up little space and is easy to park. It is also one hundred per cent safe, with a three-point safety belt and airbag.
You are guaranteed a different experience in this vehicle that is neither a car nor a motorbike.
Twizy: 2 seats
Fuel: 100% electric
Driver licence: as for ordinary cars
Max speed: 80 km/h